Quality
FAP 95.2%
FAP rate (average 2018)
3.5%
NFD deviation rate (average 2018)
Quality_Tab_
CSS 2016
CSS tab content
Swiss WorldCargo's customer survey 2016
Our 2016 Customer Survey proved, again, that Swiss WorldCargo is a customer champion.
Overall satisfaction and loyalty remain very high: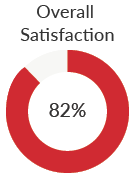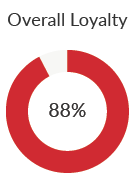 The Net Promoter Score (NPS)* value of 71 (out of 100) shows a high readiness of our customers to recommend Swiss WorldCargo.
Over the years, we have built this solid reputation based on trust, industry expertise & professionalism. This is why we can share so many success stories with our customers.
*Net Promoter Score (NPS) measures the loyalty that exists between a provider and a consumer.
Cargo iQ
Cargp IQ tab content
What is Cargo iQ
Cargo iQ, earlier known as 'Cargo 2000', is an IATA initiative that brings together more than 80 major airlines, forwarders and third parties in air freight with the mission of creating and implementing quality standards for the worldwide air cargo industry.
Cargo iQ has so far been the deepest and most far-reaching improvement initiative in air cargo. In 2016, the group implemented a new audit and certification scheme, focused on increasing international recognition for the Cargo iQ Quality Management System Certification as well as a new data management initiative called Smart Data.
Our Commitment
Swiss WorldCargo has been an active member of the Cargo iQ initiative since its inception. All stations in our network are certified in accordance with Cargo iQ standards and we are continuously ranked amongst the top airlines in Cargo iQ results.
Why Cargo iQ
Standardised Processes

Creates and fosters adoption of standardised shipping processes.
Provides an audit and certification scheme that focuses on increasing international recognition ('Cargo iQ Quality Management System Certification').
Increased Transparency

Ensures improved interfaces for the exchange of shipment data between invested parties, to allow precise planning and proactive monitoring.
IOSA
IOSA tab content
What is IOSA
The IOSA programme is an internationally recognised and accepted evaluation system designed to assess the operational management and control systems of an airline. IOSA registration is a pre-condition to receive or maintain IATA membership.
Our commitment
All processes at Swiss International Air Lines, including cargo processes, are reviewed according to IOSA standards regularly.
IOSA audits take place in every two years; certification is issued if the audit is passed without any findings (non-conformance to IATA standards).
Why IOSA
Standardisation

Implements an IATA monitored audit program.
Provides regular updates of standards.
Continuous Improvement
Continous tab content
Continuous Improvement
For us, 'quality' is the ability to continuously improve at every facet of what we do. It is the never-ending quest for excellence. In order to imbue this drive for continuous improvement in the company, we follow a two pronged strategy – adoption of Kaizen methodology to improve our processes and a strong focus on trainings for our staff.
Our Commitment
Kaizen
We apply the Kaizen methodology of continuous improvement to all our activities and processes. This methodology improves already established activities, redefines and revises them, enabling us to apply best practices.