Agrégateur de contenus
02/07/2019
Swiss WorldCargo approves CSafe RAP for wide-bodied aircraft
2 July 2019, Zurich Airport, Switzerland – Swiss WorldCargo, the airfreight division of Swiss International Air Lines, has approved the CSafe RAP for its fleet of wide-bodied aircraft. The CSafe RAP is CSafe's latest innovation in active temperature-controlled containers and has quickly gained approval to fly on an ever-expanding list of airlines.

Susanne Wellauer, Head of Pharmaceuticals and Healthcare Vertical Industry Management, comments: "Swiss WorldCargo is delighted to allow CSafe RAP containers onboard our aircraft. Our partnership underscores not only a continued focus on quality in shipping temperature-sensitive pharmaceutical goods worldwide everyday, but also our dedication to finding the best solutions for doing so."

Jeff Pepperworth, Chief Executive Officer for CSafe Global states, "Adding Swiss WorldCargo to our directory of airline partners approved to fly the CSafe RAP certainly extends our ability to serve more life-science customers with this state-of-the-art air cargo container solution. We are proud to further our partnership with SWISS and believe the combination of our industry-leading solution with their pharma cargo service will go a long way to ensure that life-enhancing, temperature-sensitive products make it to patients in need around the world."

The CSafe RAP is part of Swiss WorldCargo's growing portfolio of temperature-controlled containers. It underscores CSafe's dedication to quality and ensures Swiss WorldCargo's commitment to providing the best solutions to maintain temperature integrity and the deliver temperature-sensitive, life-enhancing products worldwide.

Swiss WorldCargo
Swiss WorldCargo is the airfreight division of Swiss International Air Lines (SWISS). Headquartered at Zurich Airport, Swiss WorldCargo offers a comprehensive range of logistics solutions for transporting high-value and care-intensive consignments to some 130 destinations in over 84 countries. The extensive Swiss WorldCargo network of airfreight services is further supplemented by daily truck connections between key business centers. As a reliable and innovative service provider within the Lufthansa Group, Swiss WorldCargo is consistently committed to delivering Swiss quality to its airfreight customers, and makes a substantial contribution to SWISS's overall profitability.
This media release can be found at swissworldcargo.com

Continuer la lecture
21/06/2019
Swiss WorldCargo wins DHL Care Award for the fourth time in a row, reflecting excellence in pharmaceutical and healthcare transport
The Carrier Award for Reliability and Excellence (CARE) honours air freight providers for their excellence in the handling and safe shipment of temperature-sensitive life science products. Recipients of the DHL CARE Award, which was first instituted back in 2016, offer exceptional service, quality, ground handling and innovative technologies and processes for their shipments. Swiss WorldCargo has previously received the award in 2016, 2017 and 2018.

"We are delighted and honoured to receive the 2019 DHL CARE Award, this time for the fourth year in a row," said Ashwin Bhat, Head of Swiss WorldCargo. "This achievement underscores not only our work with DHL, but also both our companies' continued commitment to best-in-class quality and service offerings in the field of temperature- sensitive cargo. We look forward to a continued strong partnership between our organizations and will continue with our focus on our reliability and quality commitment in the future."
"Swiss WorldCargo has been one of our valued partners for many years. Being awarded with the DHL CARE Award for the fourth time in a row clearly reflects their service excellence," stated Thomas Mack, Head of Global Air Freight, DHL Global Forwarding.
Continuer la lecture
19/06/2019
Cargo Matters goes digital
Zurich Airport, 19 June 2019 – Cargo Matters, Swiss WorldCargo's customer magazine focusing on company as well as industry-wide developments, has transitioned to a digital format. It is now available as an easily accessible blog, providing readers with readily available stories highlighting the latest Swiss WorldCargo news and air cargo trends.

In the last fifteen years, Cargo Matters has developed a reputation for compelling, research-driven insights. The publication has sourced content from a variety of authors, including Swiss WorldCargo executives, industry leaders, and prominent air cargo journalists. With this shift to a new blog platform, the publication will offer similar content at a more frequent pace. Customers and readers will have regular access to success stories, thought leadership pieces, and a variety of digital content.

The new blog format will be divided into six main categories:

• Highlights: Cover stories highlighting the latest and most interesting topics at Swiss WorldCargo
• Collaboration: Customer stories focusing on how Swiss WorldCargo achieves successful results with its clients and partners
• Market Trends: An overview of trends in import-export, logistics and airfreight
• Insights: Expert editorial views about changes, innovation and other industry development
• People: Interviews and team portraits from throughout the Swiss WorldCargo network
• In Short: Quick news and updates, including awards, timetable changes, and much more.
The blog platform will also highlight the company's commitment to sustainability. With a reduction in printing, the company expects to save 4.5 tonnes of paper per year.

"Shifting Cargo Matters to a blog underscores our ongoing commitment to quality content, digitalization and sustainability," said Ashwin Bhat, Head of Swiss WorldCargo. "We are proud to continue offering the same level of journalism for our customers and readers everywhere, in a new, even faster and more easily accessible format compatible with all devices."
Continuer la lecture
MEDIA_RELEASE_SHOW_ALL_BUTTON
NEWS_AND_MEDIA_Cargo_matters
Cargo Matters
Le fret est essentiel : ce n'est pas un scoop. Nous souhaitons en revanche que "Cargo Matters" vous apporte du nouveau sous le soleil ! Cette première plateforme d'information de Swiss WorldCargo sous forme de magazine sera publiée trois fois par an. Elle proposera des informations soigneusement recherchées sur des marchés et produits spécifiques et examinera les courants et tendances du secteur, y compris les niches de croissance telles que l'eBusiness.
Table of content of issue 1/2018
Editorial
From Ashwin Bhat
Lead Story
15 years of "Cargo Matters"
By Heiner Siegmund and Will Waters
Verticals - Pharma & Healthcare
CEIV certification special
Digitalisation
Introducing the eDGD – Electronic Dangerous Goods Declaration
Utopia
Let air cargo leaders learn to disrupt their industry
Experts' Views
eCommerce: what do you expect from your "middle mile
provider"?
Network
Station Portrait: Welcome to Hong Kong
Three question about ...
eBooking
Facts & Figures
Everything you wanted to know about...Zurich Hub
Editor's Pick
Best of Social Media
Industry Events
Save the date
Contest
Win an overnight stay at the Savoy Hotel in Zurich
Cargo Matters Digital Archive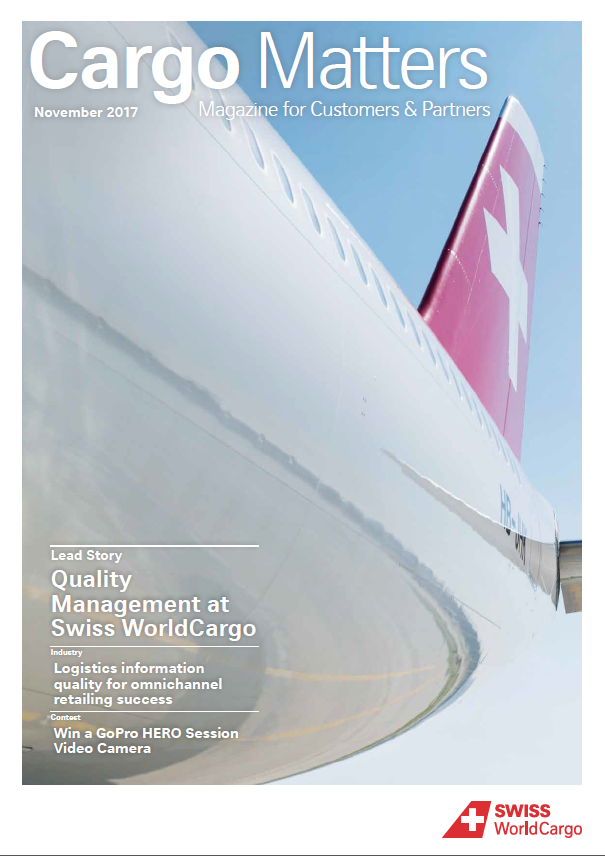 PICTURES_VIDEOS

Images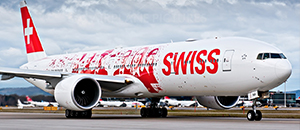 Vidéos