about_us_company_our_story_main_head
Notre histoire
Swiss WorldCargo est la division fret de Swiss International Air Lines (SWISS). Basée à l'aéroport de Zurich, Swiss WorldCargo propose une gamme étendue de solutions logistiques pour le transport de tout type de fret, notamment les biens de valeur et les marchandises nécessitant une attention particulière, vers 130 destinations dans plus de 84 pays. Son vaste réseau de services aériens est complété par des liaisons routières quotidiennes vers les principaux centres d'affaires et industriels. Prestataire de services fiable et novateur au sein du groupe Lufthansa, Swiss WorldCargo s'engage à offrir systématiquement la "qualité SWISS" à ses clients.
Notre mission
Nous misons sur nos forces et notre singularité en tant que fournisseurs fiable et innovant au sein du groupe Lufthansa pour offrir des solutions logistiques à haute valeur ajoutée demandant une attention toute particulière. Nous inspirons nos équipes, nous engageons nos partenaires et nous offrons continuellement une qualité supérieure.
We care for your cargo.
Moments clé
Milestones
2002
March
Swiss International Air Lines is founded.
April
SWISS creates its Swiss WorldCargo airfreight division.
December
Oliver Evans is appointed Head of Swiss WorldCargo.
2003
July
New Airbus A340-300 brings long-haul innovation and greater fuel efficency to the SWISS fleet.
2005
January
SWISS adopts the Kaizen approach to continuously improve its business.
June
Swiss WorldCargo starts publishing data measured by IATA's quality management system Cargo 2000.
2006
March
Swiss WorldCargo and Lufthansa Cargo conclude a marketing and sales collaboration agreement.
June
First Swiss WorldCargo Customer Satisfaction Survey conducted.
December
All Swiss WorldCargo stations certified to standards of Cargo 2000. Phase 1 implementation programme.
2007
November
Delhi receives daily service, becomings SWISS's first long-haul destination since its foundation.
2008
May
Non-stop service introduced between Zurich and Shanghai.
September
IATA selects Swiss WorldCargo to pioneer the introduction of a new "e-freight" facility in Switzerland.
2009
January
Swiss WorldCargo goes live with Swiss Worx, a customised version of SkyChain, the comprehensive end-to-end cargo management system developped by Dubai - based IT provider Mercator.
March
Zurich Airport becomes the first location in Switzerland "IATA e-freight-capable".
December
SWISS X-Presso "One-Hour Option" introduced for ulta-.express consignments.
New destinations added to the long-haul network thanks to a comprehensive collaboration agreement with Edelweiss Air.
2010
June
Non-stop service introduced between Zurich and San Francisco.
2011
July
Swiss WorldCargo becomes a founder member of IG (Interest Group) Air Cargo Switzerland.
August
Swiss adopts a sharpened brand profile, and Swiss WorldCargo gets a modified corporate logo.
December
Swiss WorldCargo introduces lightweight containers to its ULD fleet.
2012
February
Non-stop flights introduced between Zurich and Beijing.
Swiss WorldCargo launches its new "Faces" advertising campaign.
March
Swiss WorldCargo named "Cargo 2000 Platinum Member".
New airfreight capacity between Zurich and Newark thanks to the introduction of A330 on the route.
May
New weekly service introduced between Zurich and Tampa, operated by Edelweiss Air.
2013
March
Swiss WorldCargo launches its SWISS °Celsius Passive solution for temperature sensitive shipments.
Reconfirmation of the "Cargo 2000" platinum membership.
May
Swiss WorldCargo launches direct service to Singapore.
2014
January
Switzerland adopts eCSD (Electronic Consignment Security Declaration).
February
Swiss WorldCargo hub at Zurich Airport receives a GDP certification from Swissmedic.
July
On Board Courier Service now available thanks to the partnership with Chapman Freeborn.
September
Partnership with WCA announced.
2015
January
Quality alliance with Cargologic and SATS.
April
Cold storage facilities expanded at Zurich Airport.
Swiss WorldCargo to test drone technology in cooperation with Swiss Post and Matternet.
October
Ashwin Bhat takes over from Oliver Evans as Head of Cargo.
2016
February
Swiss WorldCargo is one of the airlines taking the lead in eAWB 360 campaign.
SWISS takes delivery of the first of nine Boeing 777-300ER aircraft.
July
Bombardier C Series enters service at SWISS.
September
Swiss WorldCargo launches new brand identity campaign.
2017
March
Swiss WorldCargo launches new website to put user experience and its customers at the centre.
June
Swiss WorldCargo has been rewarded for the DHL CARE Award for the second time.
August
The new organisational set-up in America has been introduced and will consolidate three regions to two.
2018
July ​​​​​​
Swiss WorldCargo rewarded with the DHL CARE Award for the third time.
August
Swiss WorldCargo gets CEIV certification pharma.
October
Swiss WorldCargo begins operating new routes to Ho Chi Minh City/Saigon, Colombo, Buenos Aires with the Winter Timetable 2018.
2021
April
Lorenzo Stoll takes over from Ashwin Bhat as Head of Cargo.
Direction
OUR_STORY_ORGANIZATION_NEW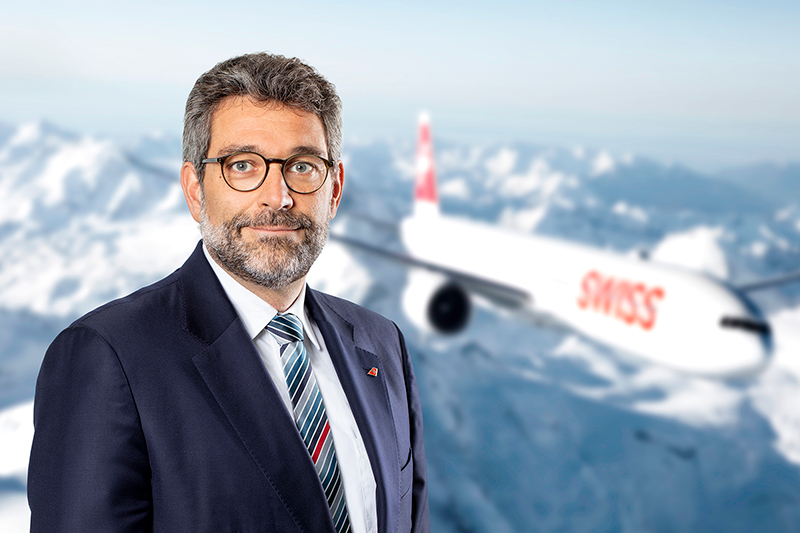 Lorenzo Stoll
Head of Cargo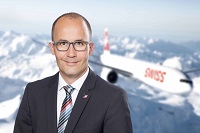 Christian Wyss
Head of Cargo Offering Dev. & Steering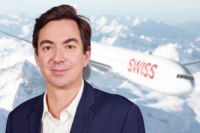 Gieri Hinnen
Head of Global Cargo Sales
Faits et chiffres
our_story_tab3_content
May 2019
Employees
| | |
| --- | --- |
| Employees worldwide | About 300 |
Fleet
| | |
| --- | --- |
| Airbus A319 | 4 |
| Airbus A320 | 19 |
| Airbus A321 | 9 |
| Airbus A330 | 14 |
| Airbus A340 | 5 |
| Bombardier CSeries 100 | 8 |
| Bombardier CSeries 300 | 20 |
| Boeing 777-300ER | 10 |
| Total | 89 |
Key Figures
| | |
| --- | --- |
| Cargo revenue | 11 % of total SWISS revenue |
| Destinations | 175 |
| Volume Load Factor (intercontinental fleet) | 79.9% |
| TKT (ton-kilometres transported), including mail and RFS | 1.8 trillion |
Products
SWISS Argus
For your protected supply chain
SWISS °Celsius Active
For your temperature controlled supply chain
SWISS °Celsius

Passive

For your temperature sensitive supply chain
SWISS °Celsius Passive Solutions
For your door-to-door temperature sensitive shipments
SWISS General Cargo
For your seamless supply chain
SWISS Mail
For your international mail exchange
SWISS Valuables
For your highly secured supply chain
SWISS X-Presso
For your time-critical supply chain
Prix et distinctions
our_story_tab4_content
Awards
2018

DHL CARE Award

Swiss WorldCargo fully CEIV certified

2017

2016

2013

ACE Award of Excellence, Air Cargo World

2012

ACE Award of Excellence, Air Cargo World

2011

ACE Award of Excellence, Air Cargo World

2009

Certificate of Appreciation, Japan Post

Best European Cargo Airline, Air Cargo News -
"Cargo Airline of the Year Award"

2008

ACE Award of Excellence, Air Cargo World

Best European Cargo Airline, Air Cargo News -
"Cargo Airline of the Year Award"

2007

ACE Award of Excellence, Air Cargo World

2006

ACE Award of Excellence, Air Cargo World

Advertising Excellence Award - Air freight, World Trade

2005

ACE Award of Excellence, Air Cargo World

2004

Supplier Recognition Award, NTP Radio Isotopes

Quest for Quality Award, Logistics Management