15/08/2017
Swiss WorldCargo: new organizational set-up in the Americas
The air cargo division of SWISS announces a new organizational set-up in the American market and the appointment of Mr. Hendrik Falk as Regional Manager Western, Southern USA & South America.
Effective October 2017, Swiss WorldCargo's American organization will be consolidated from three to two regions: Western, Southern USA & South America and Northeast/Midwest USA and Canada.
The newly created region Western, Southern USA & South America will be headed by Hendrik Falk, who has recently joined Swiss WorldCargo and will be based in Atlanta. Hendrik has extensive executive experience and almost thirty years expertise in the air cargo industry. In his former role as Vice President North and South America of an international all cargo carrier, he was responsible for all aspects of that company's activities in both continents. Previously, he held several executive roles for industry leaders in various challenging capacities in the USA, Asia and in Europe.
The region Northeast/Midwest USA and Canada will continue to be led by Mr. Michael Ganz, based in New York. Michael joined the American organization two years ago, after holding several commercial management positions at Swisscargo and Swiss WorldCargo in Zurich.
Mr. René Brechbuehl, who had been successfully heading the region South-East USA & South America for the last 3 years, will be leaving Swiss WorldCargo in October to begin his well-deserved retirement following 44 years of service with Swissair and SWISS.
Continue Reading
22/06/2017
Swiss WorldCargo awarded again for the DHL CARE Award
Swiss WorldCargo, together with Lufthansa Cargo and two other air cargo carriers have been rewarded for the DHL CARE Award in 2017. All of the nominees are recognized for excellence in transporting temperature-sensitive life science products.
Swiss WorldCargo feels greatly honoured for the recognition of its performance and core expertise via this industry wide award.

DHL, the world's leading logistics and shipping provider, recognized Lufthansa Cargo & Swiss WorldCargo, United Cargo and Emirates SkyCargo as the recipients of this year's Carrier Award for Reliability and Excellence.
Inaugurated in 2016, the DHL CARE Awards acknowledge air freight providers, whose services set the industry standard for the transport of temperature-sensitive life sciences products.
The DHL CARE Awards were presented at the 17th DHL Global Life Sciences and Healthcare Conference in Singapore this week, where close to 400 life sciences and healthcare leaders met to discuss major supply chain trends affecting the industry.

This year's DHL CARE Award winners were chosen from a pool of carriers according to criteria including shipment quality, ground handling expertise and innovation in both technology and process. The award recipients all demonstrated extremely high levels of shipment performance, combined with a variety of factors including rigorous certification and bold infrastructural investments.

Swiss WorldCargo is very happy that its reliability and excellence gets a wide recognition. Ashwin Bhat, Head of Cargo at SWISS, comments: "It is a great honour for us to be nominated again for the DHL CARE Award, we are very proud. We also are encouraged to be on the right track on tackling the two major challenges which determine our business nowadays; the increasing need for customisation and the complexity of the regulatory framework. We will continue to improve on these core challenges and finding innovative solutions for our clients."
Continue Reading
11/04/2017
Swiss WorldCargo appoints Alexandra Dahl-Augustin as Head of Marketing and Communications
Swiss WorldCargo, the airfreight division of Swiss International Air Lines (SWISS), has announced the appointment of Alexandra Dahl-Augustin as the new Senior Manager Head of Marketing and Communications.
Alexandra joined Swiss WorldCargo in December 2014 and since then she has been responsible for Key Account Management both in defining and building Swiss WorldCargo's key account strategy. Alexandra was developing and creating stronger customer relationships with the strategic partners of Swiss WorldCargo.

"With her experience and educational background, we look forward to Alexandra leading our efforts to meet our key strategic success factors of positioning and enhancing our brand promise and values. In her new role, Alexandra is responsible for both communication disciplines: Marketing, Public Relation and Internal Communication," said Ashwin Bhat, Head of Cargo, Swiss International Air Lines.

Before joining Swiss WorldCargo she held various positions in passenger sales within American Airlines, Lufthansa and Swiss International Air Lines.

Alexandra holds an MBA in Sales and Marketing from Danube University Krems in Austria. A German national, Alexandra is proficient in German, English and with basic knowledge in French and Spanish.
Continue Reading
Cargo Matters
It is no news to you that cargo matters. But we hope that our Cargo Matters will bring some news to you! The first magazine-style information platform to come from Swiss WorldCargo, Cargo Matters will be published three times a year and, besides offering a highly edited view on specific markets and products, it comments on industry currents and trends, including niches for growth such as e-business.
Table of content of issue 2/2017
Editorial
From Ashwin Bhat
Lead Story
Business Development & Customer Experience at Swiss WorldCargo
Made in Switerland
Pharma and Swiss WorldCargo - how dialogue can bring forth outstanding innovations and partnerships
Care Intensive Solutions
Tail-to-tail: speed boost for your supply chain
Events
Event Calendar, September - November 2017
Network News
SWISS dedicates its first CS300 to French-speaking Switzerland
Partners
Swiss WorldCargo offers enhanced capabilities for the pharma & food sector in Italy
Info Guide
Swiss WorldCargo again receives the DHL CARE Award
CAAC commends Swiss WorldCargo's management of Dangerous Goods in Shanghai
Three reasons to engage with Swiss WorldCargo on LinkedIn
Contest
Cargo Matters Digital Archive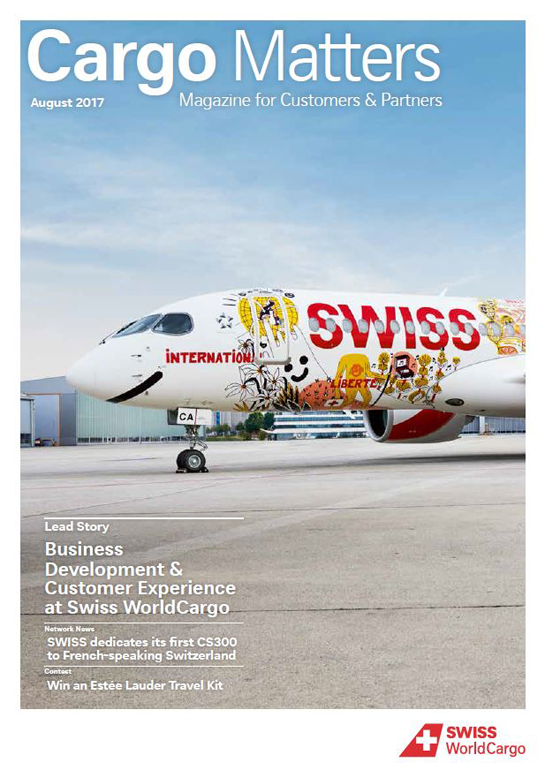 Answer & win!
Customer question
What is the transfer time for our Swiss X-Presso "One Hour Option" product?

Pictures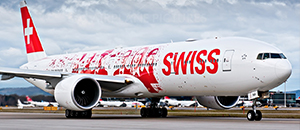 Videos