04/07/2018
Swiss WorldCargo and Lufthansa Cargo receive DHL Care Award
Quality, expertise and innovation in transporting temperature-sensitive cargo recognized
Swiss WorldCargo and Lufthansa Cargo were awarded with the DHL Care Award, which recognizes both air freight providers for their excellence in the handling and safe shipment of temperature-sensitive life science products.

The awards ceremony took place on 28 June in Lake Maggiore, Italy. The DHL Care Awards, inaugurated in 2016, recognize the safe transport of temperature-sensitive life sciences products. Carriers receiving the award are selected by DHL based on their experience in shipment quality, ground handling expertise and innovation. Swiss WorldCargo previously received this award in 2016 and 2017, and Lufthansa Cargo in 2017.

"We are honored to receive the DHL Care Award 2018, this time for the third year in a row," said Ashwin Bhat, Head of Cargo at SWISS International Air Lines. "We are proud of this recognition and consider it a testament to our organisation's continued dedication to the safe delivery and transportation of pharmaceutical products throughout the world."

"We are very pleased that we have again received this important customer award together with our group colleagues for our services in the field of temperature-sensitive cargo. We will continue doing our utmost to offer our customers the most reliable and innovative solutions and to set new standards in the industry," said Peter Gerber, CEO and chairman of the executive board of Lufthansa Cargo.
Swiss WorldCargo
Swiss WorldCargo is the airfreight division of Swiss International Air Lines (SWISS). Headquartered at Zurich Airport, Swiss WorldCargo offers a comprehensive range of logistics solutions for transporting high-value and care-intensive consignments to some 130 destinations in over 84 countries. The extensive Swiss WorldCargo network of airfreight services is further supplemented by daily truck connections between key business centers. As a reliable and innovative service provider within the Lufthansa Group, Swiss WorldCargo is consistently committed to delivering Swiss quality to its airfreight customers, and makes a substantial contribution to SWISS's overall profitability. This media release can be found at swissworldcargo.com
Lufthansa Cargo AG
Lufthansa Cargo ranks among the world's leading air freight carriers. In the 2017 business year, the airline transported around 1.6 million tonnes of freight and mail and sold 8.9 billion revenue tonne-kilometres. The company currently employs about 4,500 people worldwide. Lufthansa Cargo focuses on the airport-to-airport business. The cargo carrier serves around 300 destinations in more than 100 countries with its own fleet of freighters, the belly capacities of passenger aircraft operated by Lufthansa, Austrian Airlines and Eurowings, and an extensive road feeder service network. The bulk of the cargo business is routed through Frankfurt Airport. Lufthansa Cargo is a wholly owned Lufthansa subsidiary of Deutsche Lufthansa AG.
Continue Reading
07/06/2018
Swiss WorldCargo reaches 36 QEP accredited Stations
Envirotainer, the global market leader in secure cold chain solutions for the pharmaceutical supply chain, announced today that Swiss WorldCargo now has 36 QEP accredited stations, comprised of QEP Basic, Advanced and Expert levels. With 31 stations receiving the QEP Advanced accreditation, Swiss WorldCargo has the highest number of stations with this distinction within the industry. Alongside this, the airline's Zurich hub has recently been recognized as a QEP Expert station, based on its GDP compliance and CEIV certification.
Bourji Mourad, Head of Global Partner Management at Envirotainer, said "Swiss WorldCargo demonstrates their commitment to providing best-in-class services to their customers, and the pharmaceutical industry by promoting best practices and industry standards, such as the Qualified Envirotainer Provider (QEP) program. The commitment by teams on both sides is very encouraging and we expect such announcements to continue."
"This is another very important milestone for Swiss WorldCargo on our pharma road-map," said Susanne Wellauer, Head of Vertical Industry Pharmaceutical and Healthcare. "It clearly shows the expertise of our teams and our ability to handle Envirotainer shipments in accordance with the industry standard Goods Distribution Practice. The QEP expert level of our Zurich hub is a clear evidence of our premium SWISS quality that extends through the whole Swiss WorldCargo network of 31 QEP advanced stations."
Envirotainer launched the award-winning QEP program over 10 years ago to promote the safe handling of pharmaceuticals. QEP has led the way for other pharmaceutical handling certification programs and has, with approximately 40 participating companies, educated tens of thousands of individuals at more than 730 participating stations across the world. The effect has been to promote strong distribution practices and standardize the safe handling of Envirotainer containers.
"The QEP program and its participants serve to protect the safe delivery of Pharmaceuticals for the benefit of the patient," said Chris Fore, Compliance Manager at Envirotainer. "QEP is both a benchmark and a means by which we engage our partners to provide consistent service and fulfill Good Distribution Practice requirements from Pharmaceutical companies. It helps pharmaceutical companies identify potential hazards and control the subsequent risks."
Continue Reading
28/11/2017
Swiss WorldCargo further strengthens its network of "quality corridors" with the renewal of the GDP compliance at Zurich hub
Swiss WorldCargo's hub in Zurich reaffirms its position as a leading airport when it comes to handling pharmaceutical shipments: Swissmedic, the Swiss authority responsible for the authorization and supervision of therapeutic products, renewed the Cargologic handling facilities' GDP compliance certification in September 2017. Swiss WorldCargo's ground handling partner was one of the first to secure GPD compliance in 2014 and the "Center of Excellence for Independent Validators" (CEIV) certification from IATA for the handling of pharmaceutical products in 2015.
Over the last two years, Swiss WorldCargo has been investing heavily in replicating this best practice model in collaboration with its ground-handling partners around the world. A network of certified trade lanes is being implemented to ensure the highest quality standards and product integrity in cold chain handling on a global scale. By the end of 2017, some 50 "quality corridors" are expected to be in place, covering the top pharma destinations.
Swiss WorldCargo is also seeking to extend the Envirotainer QEP (Qualified Envirotainer Provider) programme, which recognizes its partner carriers as competent service providers when handling Envirotainer active units around their network; 30 stations in the Swiss WorldCargo network have already received this accreditation and more will follow in the coming months.
Swiss WorldCargo has also further enhanced its capabilities when handling pharma products with the implementation of the additional storage temperature range "ERT" in the cool storage facilities at the main pharma destinations.
Continue Reading
Cargo Matters
It is no news to you that cargo matters. But we hope that our Cargo Matters will bring some news to you! The first magazine-style information platform to come from Swiss WorldCargo, Cargo Matters will be published three times a year and, besides offering a highly edited view on specific markets and products, it comments on industry currents and trends, including niches for growth such as e-business.
Table of content of issue 1/2018
Editorial
From Ashwin Bhat
Lead Story
15 years of "Cargo Matters"
By Heiner Siegmund and Will Waters
Verticals - Pharma & Healthcare
CEIV certification special
Digitalisation
Introducing the eDGD – Electronic Dangerous Goods Declaration
Utopia
Let air cargo leaders learn to disrupt their industry
Experts' Views
eCommerce: what do you expect from your "middle mile
provider"?
Network
Station Portrait: Welcome to Hong Kong
Three question about ...
eBooking
Facts & Figures
Everything you wanted to know about...Zurich Hub
Editor's Pick
Best of Social Media
Industry Events
Save the date
Contest
Win an overnight stay at the Savoy Hotel in Zurich
Cargo Matters Digital Archive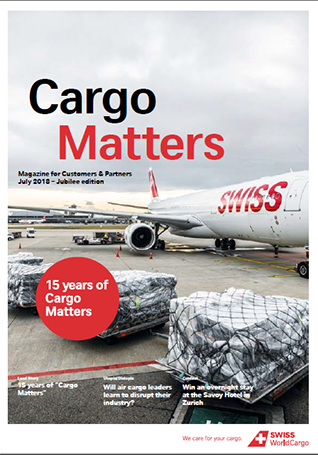 Answer & win!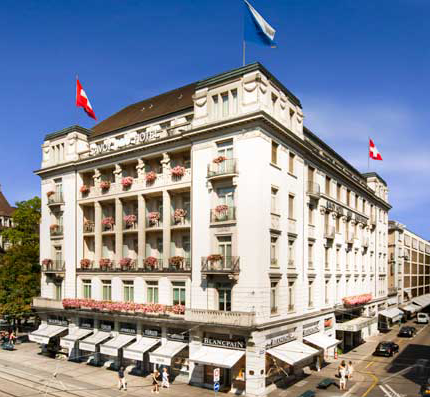 Cargo Matters 1-2018 Contest
What certification did Swiss WorldCargo receive in 2018?

Pictures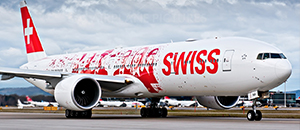 Videos