Asset Publisher
29/11/2018
Swiss WorldCargo promotes livery on new truck in Japan
Tokyo, Japan, 29 November 2018 – Swiss WorldCargo in Japan is promoting its Boeing 777-300ER livery on a new truck operated by Road Feeder Service (RFS) provider Hirano Logistics.
Developed in partnership between Swiss WorldCargo and Hirano Logistics, the branded truck operates on different routes throughout Japan. The vehicle, which is temperature-controlled, ensures the safe and effective handling of various goods, including pharmaceuticals. While it does not carry exclusively Swiss WorldCargo freight, the truck promotes the company and brand as it travels throughout Japan to meet the needs of customers.
The freighter's livery focuses on a Boeing 777-300ER from three angles, offering different visualizations. On the right side, a close-up reveals the back of an engine alongside the Swiss WorldCargo livery. The left shows a Swiss WorldCargo airplane flying above the alps, while the back displays an impressive take-off.
"We are very proud of our collaboration in successfully developing and launching this initiative," said Tango Tomonari, Head of Cargo Japan with Swiss WorldCargo. "It's an excellent way for Swiss WorldCargo to continue positioning and promoting itself within the Japanese market. At the same time, the impressive pharmaceutical handling capabilities of this truck ensure that a diverse range of products can be delivered to various destinations for different customers."
Swiss WorldCargo operates a daily flight via A340-300 to Tokyo Narita Airport via Zurich Airport. In addition to this, an extensive, already established network of trucks transports the carrier's freight throughout the country.
Continue Reading
28/10/2018
Swiss WorldCargo begins operating new routes for Winter Timetable 2018
Swiss WorldCargo, the airfreight division of Swiss International Air Lines, will begin operating new flights according to its Winter Timetable. This year's Winter Timetable introduces new global destinations in Asia and South America.
Flights to Ho Chi Minh City/Saigon from Zurich will commence on November 15, 2018, operated twice weekly, while flights to Colombo, Sri Lanka will begin operating on November 3, 2018, two times weekly. A twice-weekly flight to Buenos Aires, Argentina, will begin on 7 November.
By servicing these additional destinations, Swiss WorldCargo will continue to focus on meeting customer demands as well as complementing already established routes within the network. In Asia, Swiss WorldCargo currently handles cargo traffic on direct flights to Beijing, Shanghai, Hong Kong, Tokyo, Bangkok, Singapore and Phuket. In South America, destinations include São Paulo and Rio de Janeiro.
"The introduction of these new routes offers great new opportunities for us," said Ashwin Bhat, Head of Cargo with Swiss International Air Lines. "This shows the impressive intercontinental footprint of both Swiss International Air Lines and Swiss WorldCargo. In addition to our increased cargo capacity with the arrival of new Boeing 777-300ERs, new destinations allow us to showcase our best-in-class quality and service on a variety of global routes."
Continue Reading
23/07/2018
Swiss WorldCargo fully CEIV certified
Swiss WorldCargo, the air cargo division of Swiss International Air Lines, has received IATA's Center for Independent Validators (CEIV) Pharma certification encompassing the entire airline and organization. The certification was awarded following an extensive review from IATA recognised independent auditors. Alexandre de Juniac, IATA's Director General and CEO handed over the certificate to Michael Niggemann, Chief Financial Officer and Member of Management Board of Swiss International Air Lines.
Swiss WorldCargo's Zurich hub has already received the distinction of being CEIV certified in 2016, and is also recognised as GDP compliant by Swiss authorities Swissmedic. Based on meeting all necessary requirements, IATA now recognises Swiss WorldCargo's globally consistent pharmaceutical handling and processes to safeguard product intergrity and maintain high quality standards. With this milestone, Swiss WorldCargo has now become part of a small group of airlines who have earned this recognition.
"I am incredibly proud of our achievement in attaining full CEIV pharma certification," said Ashwin Bhat, Head of Cargo. "Quality, reliability and long-standing experience underscore all our efforts in shipping products around the globe, and we are delighted to have been recognised at not just our hub, but throughout our entire airline and network. Our commitment to upholding safety standards throughout our global network offers us opportunities to carry out pharmaceutical shipments around the world. We are happy to play a valuable role in the shipment of pharmaceutical and life-saving products every day."
"IATA congratulates Swiss WorldCargo on this important achievement, which demonstrates their commitment to the critical safeguarding of the integrity of pharma products. CEIV Pharma certification ensures these lifesaving products are handled using the best global standards of safety, security, compliance and efficiency," said Alexandre de Juniac, IATA's Director General and CEO.
Swiss WorldCargo continues to develop a "pharma road-map" to improve its footprint in the important and growing segment of pharmaceuticals and life sciences. Previously, Swiss WorldCargo was the first company to establish the so-called "quality corridors," or dedicated pharma traffic lanes between select destinations, that offer safe pharmaceutical shipments from airport to airport. With its CEIV Pharma certification, the firm provides further evidence of its adherence to the most important and strict international regulations standards for pharma shipments and further enhances its leadership in this segment.
Swiss WorldCargo
Swiss WorldCargo is the airfreight division of Swiss International Air Lines (SWISS). Headquartered at Zurich Airport, Swiss WorldCargo offers a comprehensive range of logistics solutions for transporting high-value and care-intensive consignments to some 130 destinations in over 84 countries. The extensive Swiss WorldCargo network of airfreight services is further supplemented by daily truck connections between key business centers. As a reliable and innovative service provider within the Lufthansa Group, Swiss WorldCargo is consistently committed to delivering Swiss quality to its airfreight customers, and makes a substantial contribution to SWISS's overall profitability. This media release can be found at
swissworldcargo.com
Contact information Swiss WorldCargo:
Alexandra Dahl
Senior Manager
Head of Cargo Marketing and Communications
+41 44 564 42 58
alexandra.dahl-augustin@swiss.com
Fabian Mettler
Cargo Communications Executive
+41 44 564 47 54
fabian.mettler@swiss.com
Continue Reading
MEDIA_RELEASE_SHOW_ALL_BUTTON
NEWS_AND_MEDIA_Cargo_matters
Cargo Matters
It is no news to you that cargo matters. But we hope that our Cargo Matters will bring some news to you! The first magazine-style information platform to come from Swiss WorldCargo, Cargo Matters will be published three times a year and, besides offering a highly edited view on specific markets and products, it comments on industry currents and trends, including niches for growth such as e-business.
Table of content of issue 1/2018
Editorial
From Ashwin Bhat
Lead Story
15 years of "Cargo Matters"
By Heiner Siegmund and Will Waters
Verticals - Pharma & Healthcare
CEIV certification special
Digitalisation
Introducing the eDGD – Electronic Dangerous Goods Declaration
Utopia
Let air cargo leaders learn to disrupt their industry
Experts' Views
eCommerce: what do you expect from your "middle mile
provider"?
Network
Station Portrait: Welcome to Hong Kong
Three question about ...
eBooking
Facts & Figures
Everything you wanted to know about...Zurich Hub
Editor's Pick
Best of Social Media
Industry Events
Save the date
Contest
Win a "Fit Bit Charge 3"- Advanced Health and Fitness Tracker
Cargo Matters Digital Archive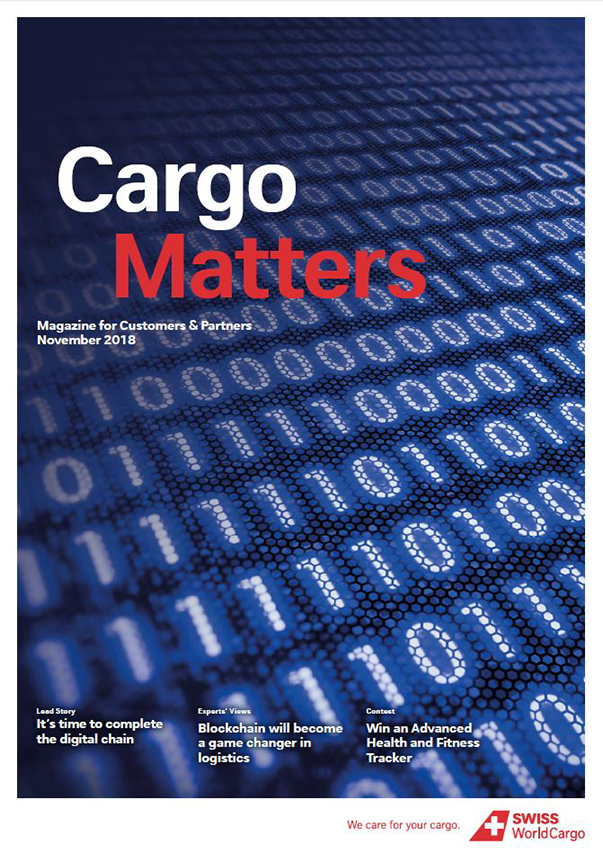 Answer & win!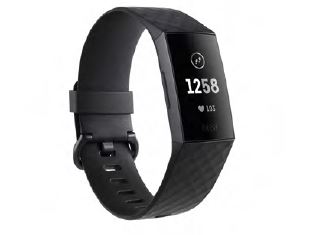 Cargo Matters 1-2018 Contest
Which destinations did we launch with the new Winter Timetable 2018/19 ?
Win a "Fit Bit Charge 3"- Advanced Health and Fitness Tracker!
PICTURES_VIDEOS

Pictures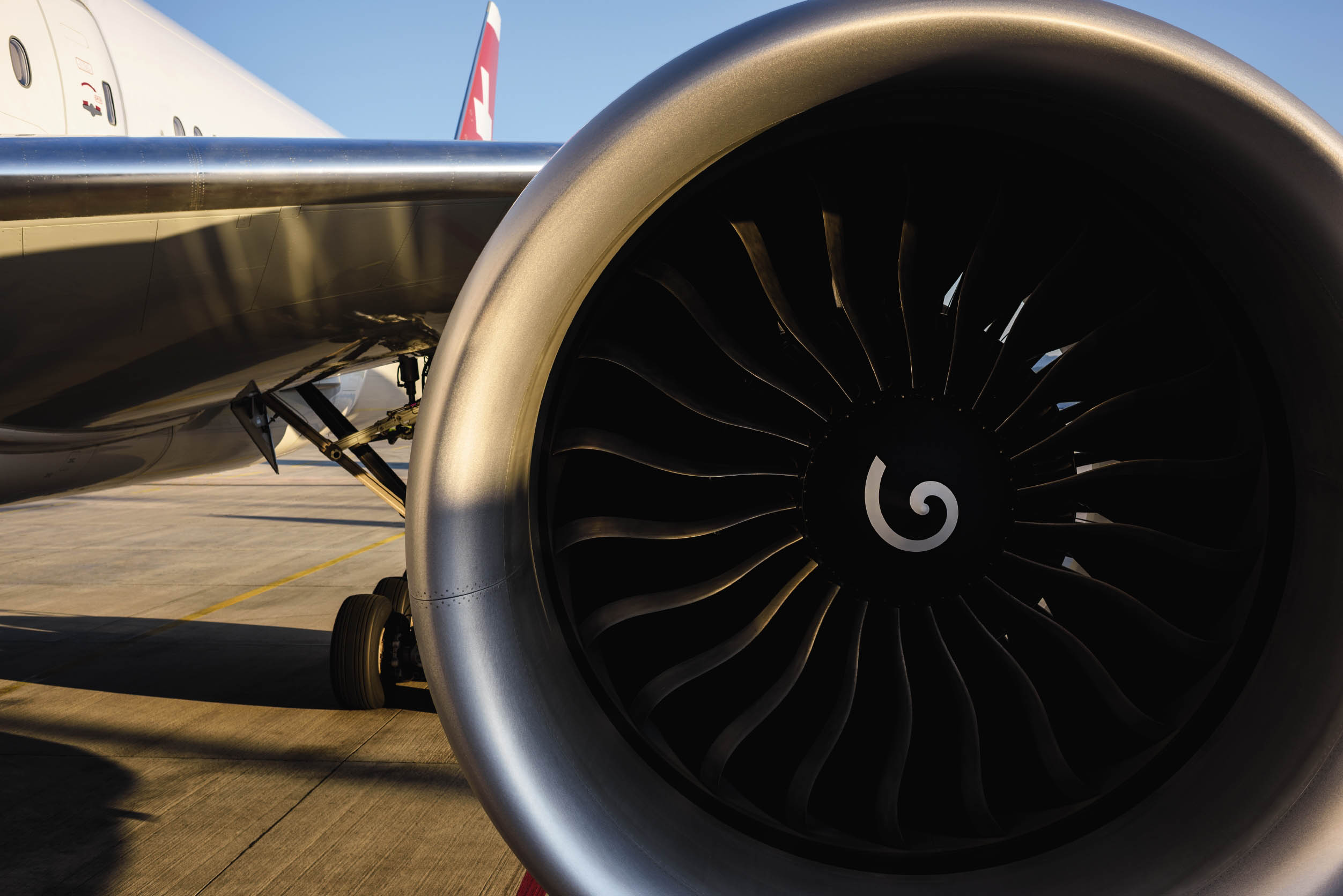 Videos