Asset Publisher
11/04/2019
Worldwide Flight Services (WFS) and Swiss WorldCargo launch New York's first GDP-compliant airport facility
Zurich Airport/John F. Kennedy International Airport, 11 April 2019 – Worldwide Flight Services (WFS), the world's largest air cargo handler and Swiss WorldCargo, the air freight division of Swiss International Air Lines and one of the industry's leading pharma air carriers, opened New York's first GDP (Good Distribution Practice) compliant pharma facility after achieving certification of its Building 66 at JFK airport.
The GDP certification confirms WFS' compliance with World Health Organization (WHO), IATA, and Parenteral Drug Association (PDA) quality standards for handling pharmaceutical and life science products, as well as with Service Level Agreements signed with individual airline customers in New York.
"As the leading cargo handler at JFK, we are proud to be the first airline handling facility to become GDP certified, which is in response to growing customer demand for high quality, standardized pharma handling," said Michael Simpson, WFS' Executive Vice President Americas, who added: "We will continue to expand our network of certified facilities, adding to our current list of JFK and Miami in the Americas as well as multiple locations in Europe."
"We are very excited that New York's first GDP-compliant airline facility is located at Swiss WorldCargo's warehouse," said Michael Ganz, Head of Northeast-/Midwest USA and Canada for Swiss WorldCargo. "This latest addition of GDP-compliant facilities allows us to offer additional quality corridors to our pharma and healthcare customers. The certification of our boutique-like single-airline facility in New York further strengthens our position as a global quality leader."
This initiative is aligned with WFS' program to provide coordinated cold chain handling services which secure product integrity and ensure patient safety. Achieving GDP certification is further evidence of the company's ability to deliver resilient working procedures and processes, as well as specialized and dedicated equipment for the handling of sensitive temperature-controlled cargo. The features of the program include a Pharmaceutical Handling Quality Manual and Quality Management System, dedicated cooler facilities, a Special Products Manager, as well as providing a team of fully experienced and trained personnel. WFS also invested in a new cooler for the 1,000 sq ft pharma facility at JFK in support of the GDP requirements.
The opening of this pharma facility also closely aligns with key Swiss WorldCargo values of customer focus and quality care. In 2018, Swiss WorldCargo received a global CEIV certification, which ensures that the company adheres to the highest standards of pharmaceutical handling globally. The airline remains committed to providing the highest standards at its stations worldwide. With three daily flights from Zurich and Geneva, JFK is an important North America-gateway for Swiss WorldCargo.
WFS has also signed a 15-year lease on a new state- of-the-art, 346,000 square feet cargo terminal at the airport, the first phase of the Port Authority of New York and New Jersey's comprehensive Vision Plan. The facility, which will have a throughput capacity of over 300 million kilos a year, will offer improved cargo flows and reduced transfer times, shorter truck waiting times and incorporate the latest security and screening systems and procedures. It will also house dedicated facilities for temperature-controlled pharmaceutical products and perishables cargo when it opens in 2020/21.
Continue Reading
31/03/2019
Swiss WorldCargo Summer 2019 Timetable goes into effect; offers increased capacity to North America and Asia
Zurich Airport, 31 March 2019 – Swiss WorldCargo, the air freight division of Swiss International Air Lines, today announced the launch of its Summer 2019 Timetable. Between now and October 2019, the airline will offer enhanced nonstop services between its hubs in Switzerland and gateways in North America and Asia.

With the launch of the Summer Timetable, Swiss WorldCargo will increase to daily Airbus A330-300 service from Zurich to both Montreal and Beijing.

Beginning in May, Swiss WorldCargo will also increase capacity on the following routes:
• Zurich – Chicago: Twelve weekly flights operated by a Boeing 777-300ER and an Airbus A330-300.
• Zurich – Vancouver: Four weekly flights operated by an Airbus A340-300.
• Zurich – Calgary: Two weekly flights operated by an Airbus A340-300.
• Zurich – San Diego: Weekly flight operated by an Airbus A340-300, upgraded to two weekly flights in July 2019.
Beginning in June, Swiss WorldCargo will increase capacity on the following route:
• Zurich – Boston: Up to fourteen weekly flights, operated by an Airbus A330-300 and Airbus A340-300.

Swiss WorldCargo will also continue to offer regular service to major destinations in North and South America including Newark, New York, Los Angeles, San Francisco, Orlando, Tampa, Miami, Havana, San Jose, Punta Cana, Rio de Janeiro, Buenos Aires and Sao Paulo.

In Asia, the carrier will continue to offer regular service to major destinations including Shanghai, Hong Kong, Singapore, Bangkok, Tokyo, Delhi and Bombay.

The entire Swiss WorldCargo network extends to over 170 destinations in over 80 countries.
Continue Reading
28/02/2019
Continued partnership between Edelweiss and Swiss WorldCargo
Zurich, February 28, 2019 – Edelweiss, Switzerland's leading leisure travel airline and sister company of Swiss International Air Lines, and Swiss WorldCargo, the freight division of Swiss International Air Lines, have agreed to a continued partnership for the coming years.
The agreement, effective since the beginning of 2019, will see Swiss WorldCargo continue to market and sell Edelweiss freight capacity. Both companies will benefit from the expanding Edelweiss network, while pursuing additional global growth opportunities. Swiss WorldCargo will maintain responsibility for managing the belly cargo of the entire Swiss International Air Lines and Edelweiss fleet on all applicable routes.
Edelweiss and Swiss WorldCargo have enjoyed a close partnership since 2009. In recent years, the Edelweiss fleet and range of destinations has grown significantly. Edelweiss now flies to over 70 destinations in 34 countries, and the airline's fleet consists of a total of 16 aircraft, including 10 Airbus A320s, 2 Airbus A330s, and 4 Airbus A340s.
Swiss WorldCargo markets cargo capacity for Edelweiss on the following destinations:
• North and South America: Vancouver, Calgary, Cancun, San Jose, Tampa, Orlando, Punta Cana, Rio de Janeiro, San Diego, Havana and Buenos Aires
• Africa and Asia: Phuket, Colombo, Saigon/Ho Chi Minh City, Malé, Mauritius and Cape Town
• Europe: Larnaca, Gran Canaria, Pristina, Tenerife and Skopje
"Our partnership with Edelweiss offers great opportunities for both us and our customers, as we are able to complement our already strong international network with additional routes in diverse markets," said Ashwin Bhat, Head of Swiss WorldCargo. "We look forward to a continued successful partnership with Edelweiss in the future."
"Swiss WorldCargo has been a strong partner for us over the last several years," said Bernd Bauer, CEO of Edelweiss. "As Edelweiss expands in both fleet size and destinations, we look forward to continuing to augment our network through their valuable support in managing cargo traffic on our routes."

Continue Reading
MEDIA_RELEASE_SHOW_ALL_BUTTON
NEWS_AND_MEDIA_Cargo_matters
Cargo Matters
It is no news to you that cargo matters. But we hope that our Cargo Matters will bring some news to you! The first magazine-style information platform to come from Swiss WorldCargo, Cargo Matters will be published three times a year and, besides offering a highly edited view on specific markets and products, it comments on industry currents and trends, including niches for growth such as e-business.
Table of content of issue 1/2018
Editorial
From Ashwin Bhat
Lead Story
15 years of "Cargo Matters"
By Heiner Siegmund and Will Waters
Verticals - Pharma & Healthcare
CEIV certification special
Digitalisation
Introducing the eDGD – Electronic Dangerous Goods Declaration
Utopia
Let air cargo leaders learn to disrupt their industry
Experts' Views
eCommerce: what do you expect from your "middle mile
provider"?
Network
Station Portrait: Welcome to Hong Kong
Three question about ...
eBooking
Facts & Figures
Everything you wanted to know about...Zurich Hub
Editor's Pick
Best of Social Media
Industry Events
Save the date
Contest
Win a "Fit Bit Charge 3"- Advanced Health and Fitness Tracker
Cargo Matters Digital Archive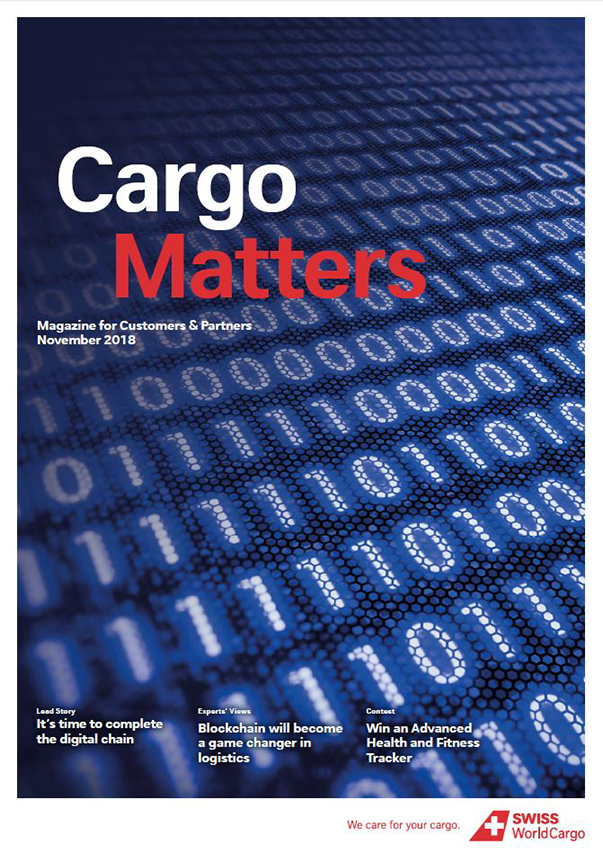 Answer & win!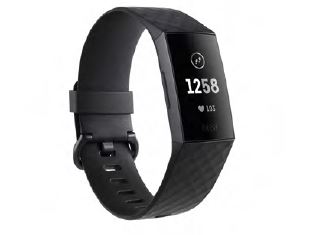 Cargo Matters 1-2018 Contest
Which destinations did we launch with the new Winter Timetable 2018/19 ?
Win a "Fit Bit Charge 3"- Advanced Health and Fitness Tracker!
PICTURES_VIDEOS

Pictures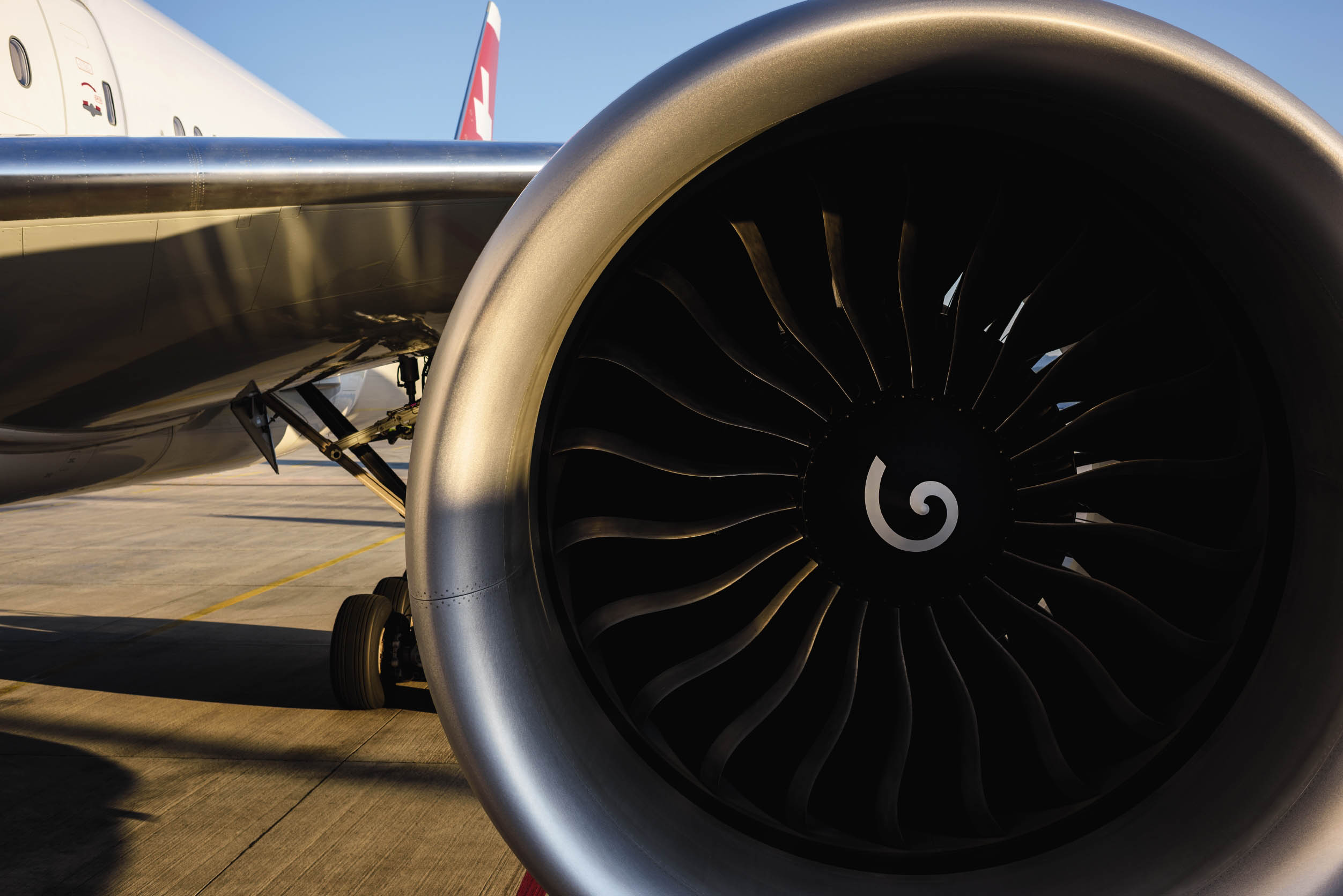 Videos